---
These bars use the UniRenko algorithm available for NinjaTrader as it was published on the futures.io forum, however they have a couple more advanced features, specially for using trading on cryptocurrency exchanges like Bitmex.
Moreover , they show new bar price levels and feature one-click entry on those levels (additional option)
---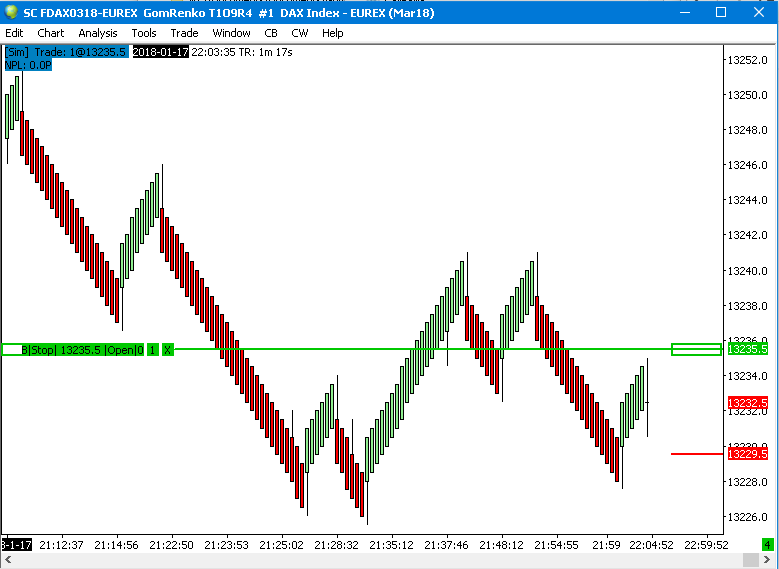 ---
These bars were developed mainly to because it was felt there was a need to be able to continuously change the Tick Size of the charts in order to be able to trade using Renko bars on Bitmex.
The GomRenko allows you to set the Renko Tick Size  to be proportional to the current price, so if you set the Tick Scale to 0.05, the Tick Size will be equal to 0.05%, so a 10.000 Bitcoin yield a 5 point Tick Size and a 20.000 Bitcoin yields a 10 point Tick Size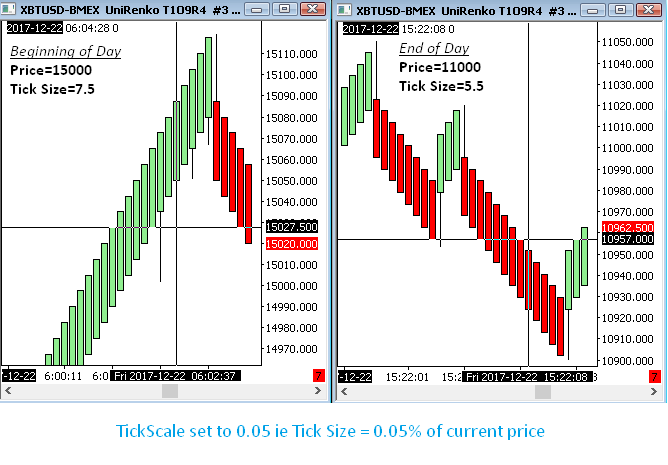 ---
Depending of your preferences, you can choose to alter the price (set a "fake" price) on the Open, the Close, both , or None.
---
Price gaps provide interesting information  ; you can choose to keep the price untouched and see the gaps, or use Sierra Chart Gap Fill to have the platform fill up the missing prices.
However, if the fill option is chosen,  you can choose to visualize the gaps as opposite wicks.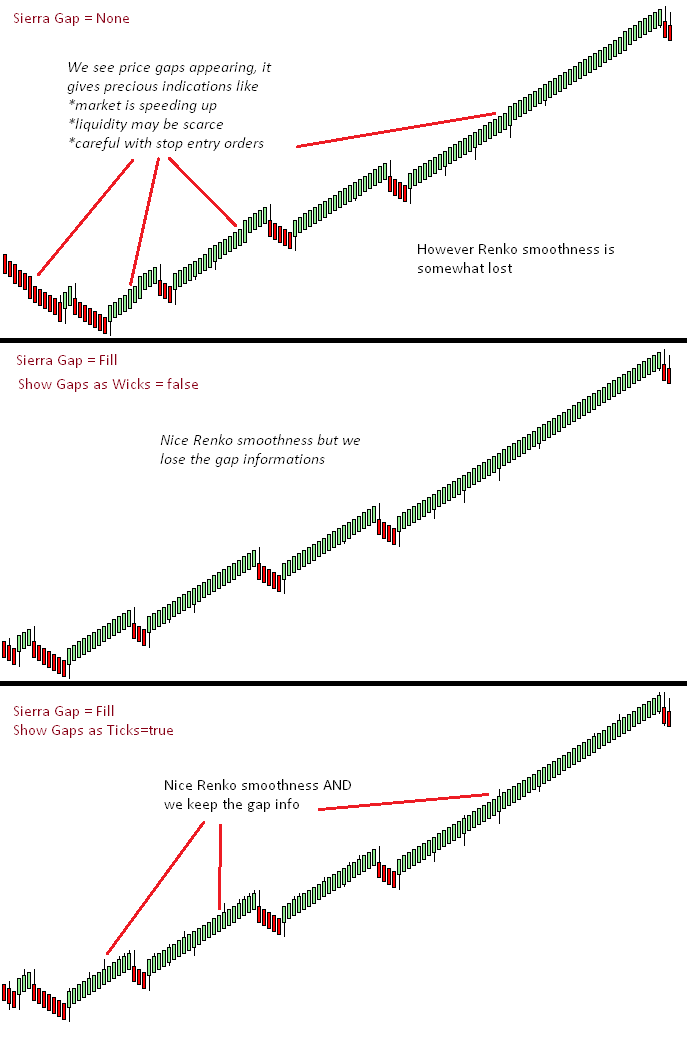 ---
The Gom Renko Next Bar Level  study will show on a chart at which price levels a new GomRenko Bar is created. 
This can be useful for stop entries , when you want to enter with momentum in your direction, on the creation of a new GomRenko bar.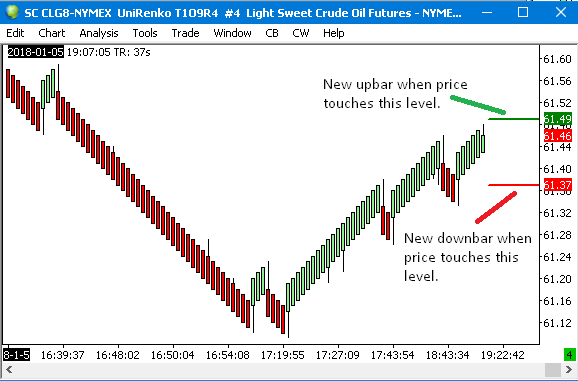 ---
One-click entry is available to enter trend or reversal orders on the opening of a new candle. Orders can be trailed if market moves adversely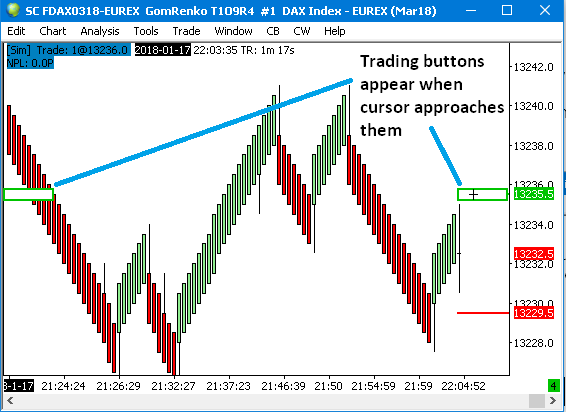 Trend Ticks/Reversal Ticks/Open Offset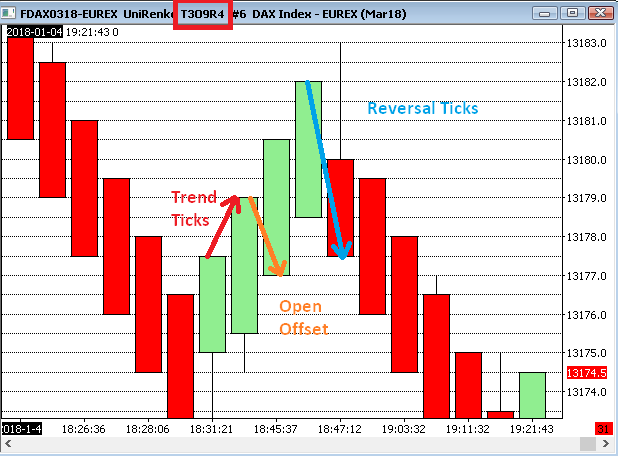 Tick Scale
If the value is 1, nothing special happens.
If value is larger than 1, the Tick Scale is a multiplying factor of T,R, and O. For instance, you can use a Tick Scale of 10 on a LMAX GDAXI having a tick size of 0.05, to emulate the same chart as the DAX which has a tick size of 0.5
If value is smaller than 1, then the Tick Scale is used the set the tick size equal to the % of the price.  For instance a setting of 0.05 will set a tick size of 5 when price is at 10.000
---
Trend Ticks/Reversal Ticks/Open Offset/Tick Scale :

Same as GomRenko
High/Low levels offset in ticks

Offset of the next level bars.
High/Low levels width in pixels

Size of the next level bars.
Following items will only appear if the one click entry option is purchased
Enable One-Click Entry Buttons
Activates the one-click entry system ; Auto Trading must be enabled in Sierra Chart's trade menu
Use Stop Limit Entries/Stop Limit Offset
Default entry is stop entry. Stop Limit is selectable, with the associated Stop Limit Offset

Trail Entries
When set to true, entries will be trailed when the market moves in the opposite direction of the trade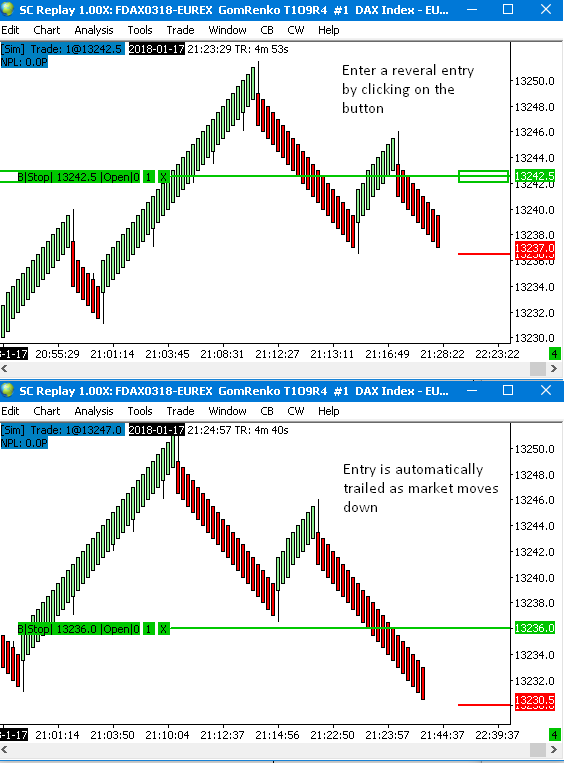 Entry Button Height

Sets the height of the entry button
Use Right Buttons/Use Left Buttons

Allows to set which buttons are active